RE1'S COMPANION
BRAINFPV mPB
---
The RE1 can be directly plugged into Mini Power Board (mPB). This power distribution board enables a simple, clean build requiring no wiring between the two. mPB provides clean power for a noise-free FPV experience and includes highly accurate current/voltage sensing so you always know how much battery power you have left.
MSRP: $25 $15 BUY
Status: In stock. Orders placed before 2PM EST typically ship the same day.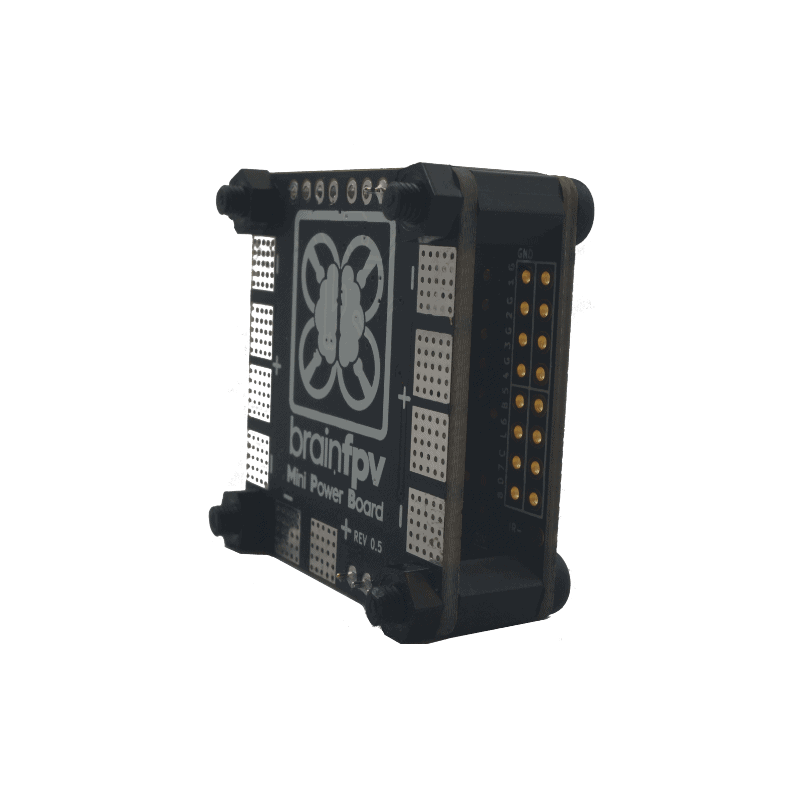 POWER IN YOUR OWN HANDS
CLEAN POWER
---
Switching power supplies and LC filters to provide clean power for all your gear.
SMOOTH
CLEAN BUILD
---
RE1 can be stacked on top of mPB without wiring, so you can keep your build clean. Easy peasy.
DON'T WORRY ABOUT RUNNING LOW
BATTERY MONITOR
---
Accurate voltage and current measurement enable you to keep tabs on your battery usage.
Power Outputs: 5V (1.25A), 12V (150mA), filtered output (750mA).
Power Input: 6.5V - 20V (2S - 4S LiPo battery).
Voltage Measurement: 151mV/V output.
Current Measurement: 25mV/A output.
Copper thickness: 4 oz (140 μm).
Maximum total Current to ESCs: 70A constant, 120A burst (10 seconds).