RE1'S Add-On
Barometer add-on for RE1
---
The add-on uses a barometer to measure the pressure of the ambient air, from which RE1 then calculates the altitude.
MSRP: $9 $7 BUY
Status: In stock. Orders placed before 2PM EST typically ship the same day.
EVER WONDER HOW HIGH YOU ARE?
MORE CONTROL
NAVIGATE WITH EASE
---
Display the altitude in the OSD to always know how high you are

Use the altitude-hold flight mode

Go all out and combine it with a GPS and an I2C compass to make RE1 fully navigation capable (position hold, loiter, return-to-home, waypoints).
EASY AND EXTENDABLE 
DESIGNED FOR YOU
---
We made RE1 to be extendable and added an extension port with high speed interfaces (SPI, I2C), as well as general purpose signals.
RE1-Baro is the first add-on for RE1 that makes use of the extension port and so can directly stacked on top of RE1 without any wiring, making it easy to use and keeping your build neat and clean.
1: Place the spacers and foam.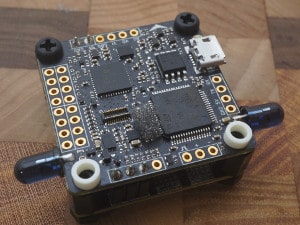 2: Position the add-on and carefully press down with your finger.
You will hear a "click" when the connector mates.
3: Use the screws to hold the add-on in place. Done :).
Enable the Barometer
Depending on whether you use dRonin or Betaflight, different steps are needed to enable the barometer. 
dRonin: Under "Hardware" in the dRonin GCS set "I2CExtBaro" to "BMP280".  Click "Save" and reboot RE1.
Betaflight: In the Betaflight configurator in the "Configuration" tab, enable "Barometer" (under "System Configuration"). Then click on "Save and Reboot". Note: the barometer is only supported in Betaflight version v3.0.1-BRAIN-2 and newer.
Barometer: Bosch Sensortec BMP280 connected using I2C.
Included: RE1 - Baro add-on, 2.5mm spacers (2x), 8mm screws (2x), foam.
Size: 36mm x 18mm. 
Vertical space required: 3.5mm (makes stack 3.5mm taller than without add-on)