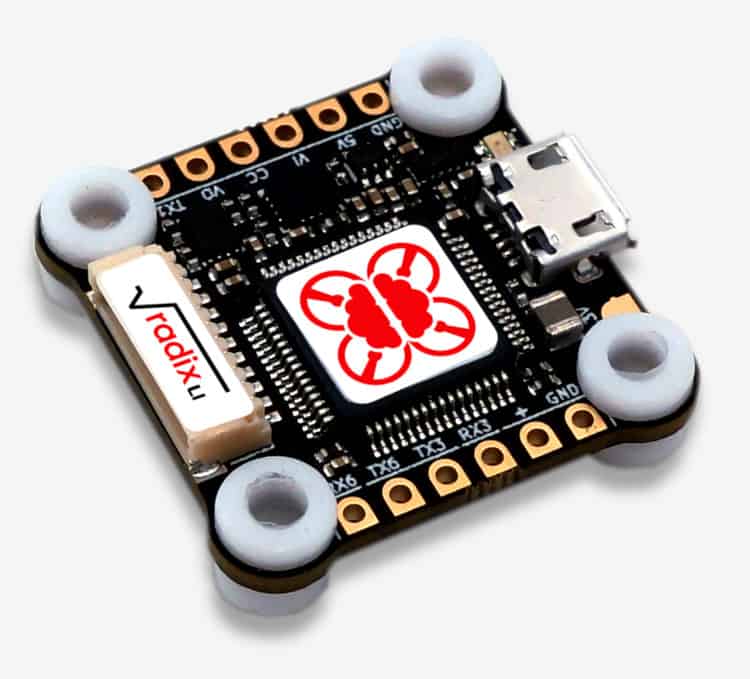 Introducing RADIX LI: The world's first 20 x 20 flight controller with a graphical OSD by BrainFPV
  hello graphics
On top of the normal Betaflight OSD, RADIX LI on-screen-display gives you extra features you can't get anywhere else. Proudly show off your pilot and team logo using our logo customizer with just a click of a button. Extra features also include a graphical barometer scale, artificial horizon, gyro spectograph, RC stick display, 3D OSD support and more!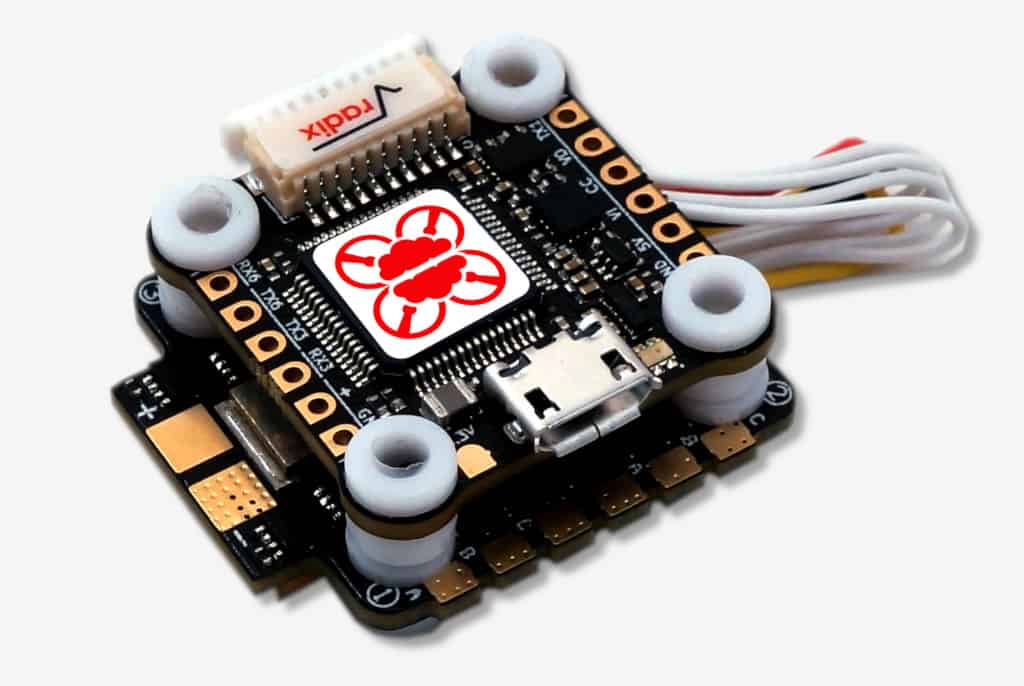 hello stacking
RADIX LI can be used with any 4-in-1 ESC on the market. It comes with cables and connectors to easily make your own wiring harness. To make things even easier, we have a RADIX LI & Spedix IS25 4-in-1 combo that is truly plug-and-play.
What are the differences between
RADIX LI & RADIX?
Compared to the RADIX, the RADIX LI:
Is smaller (doh): 20mm hole spacing, 26.5mm x 26.5mm outside dimensions
Can be powered directly from a 3S - 6S LiPo battery (500mA BEC built-in)
Does not have a barometer (you can attach a GPS to it if you want to know how high you are)
Does not have a MicroSD card slot (who need blackbox if you can OSD spectrograph for tuning?)
Does not have an analog RSSI input (these days, using RSSI or LQ over an RC channel is more common and more accurate)
Finally: The RADIX LI is cuter
Technical Specifications RADIX LI Flight Controller
Processor: STM32F446RET6, Coretx-M4, 32bit, 180MHz, 128kB RAM, 512kB Flash.
IMU: Bosch Sensortec BMI160 running at 3.2kHz, connected using SPI.
OSD: Full-graphic, PAL/NTSC auto detect, adjustable black and white levels. Full Betaflight OSD support with extra graphical features. Support for side-by-side 3D when used with a 3D FPV camera.
Motor Outputs: 6 outputs with full DSHOT (150/300/600/1200) and OneShot support.
Receiver Support: PPM, S.Bus (inverter built-in), DSM, HoTT,  SRXL, CSRF, FPort ready. 5V or 3.3V supply for receiver. Receiver is powered from USB for easy and safe setup.
Telemetry Support: FrSKY Smart Port, FrSKY Sensor Hub, HoTT Telemetry, SRXL, CSRF, FPort ready. Built-in inverter for FrSKY telemetry.
Serial Ports: 4 full serial ports (UARTs). UART3 and UART6 have inverters for S.Bus and SmartPort telemetry. Inverters are automatically enabled/disabled for maximum flexibility. 
RGB LEDs: Dedicated RGB LED output.
Camera Control: Dedicated output for accessing the camera menu to change camera settings.
Buzzer Port: Dedicated port for 5V (100mA max) buzzers.
Analog Inputs: Voltage sensing  (VBAT), current input (3.3V max).
Power: 3S - 6S (7.5V - 26V), 500mA BEC
Dimensions: 26.5mm x 26.5mm, 20mm hole spacing. 4.1mm holes for anti-vibration grommets for M3 screws.
Weight: 4g