EXAMPLES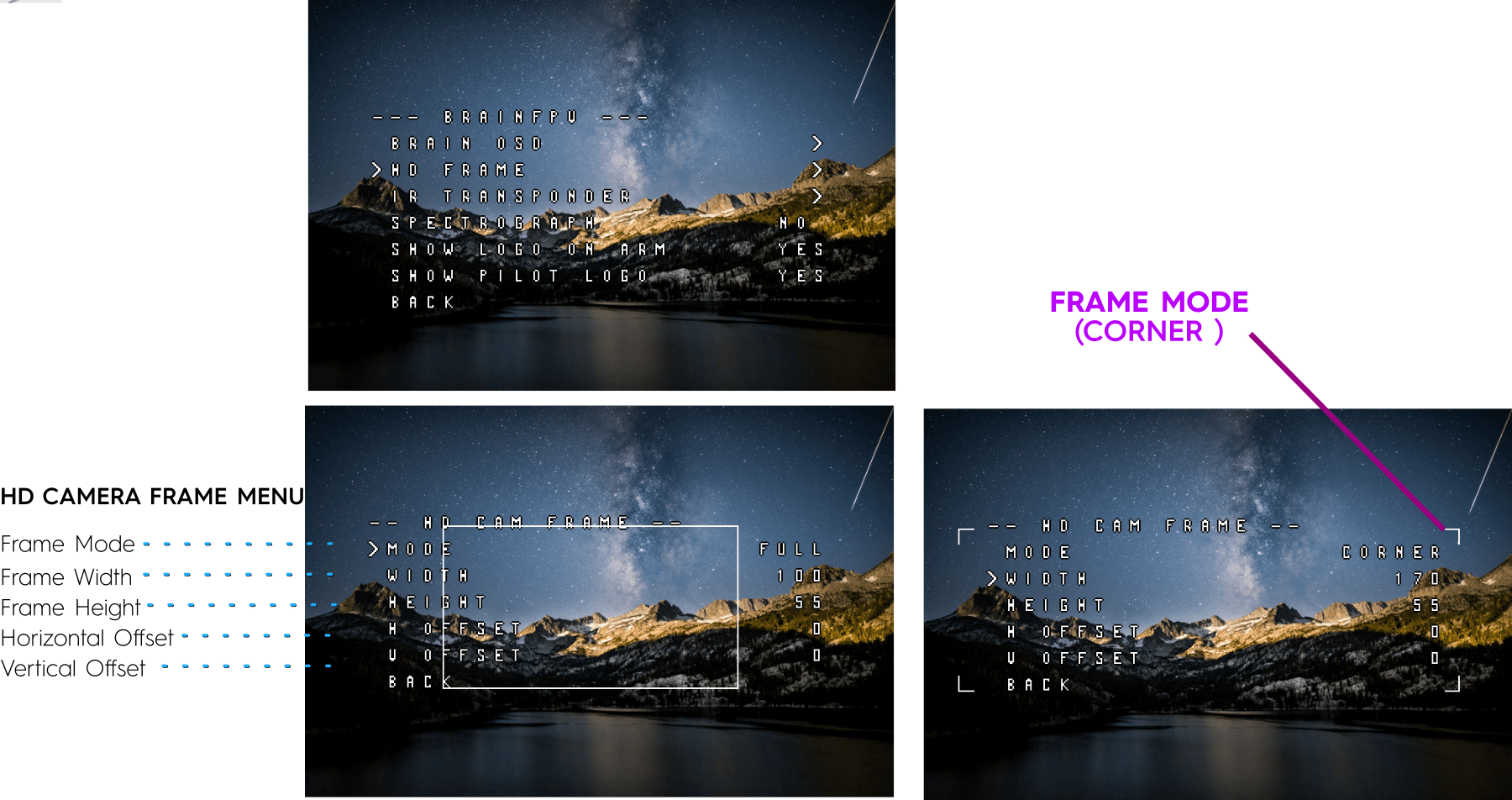 ---
You have heard about the graphical features of our OSD. But what exactly are they, and how do I use them?
After you have configured everything you need to in the Betaflight configurator, you can add additional features in the BrainFPV OSD menu.
 Accessing the BrainFPV OSD Menu
---
Navigating the OSD MENUs

---
BrainFPV OSD Menu
---
ARTIFICIAL HORIZON STEPS
Number of steps in the artificial horizon – the little bar above and below in 10 degree steps
Default 2, but you can change it min=1, max= 9.
Enable in betaflight FIRST.
ALTITUDE SCALE (on the right side)
Baro scale
SPEED SCALE- if you have GPS
Similar scale on the left side shows speed.
MAP – GPS
Little H shows you where 'HOME' is
MAP MAX DISTANCE M
Maximum distance of the map
If you are farther away than 500 meters, the little 'H' wouldnt move on the screen
You can change it to 2000 if you fly far and fast all the time
SHOW STICKS
Stick display to show sticks
You can change to mode1 or 2 for different transmitters and preferences
FONT
You can apply different fonts
Only applied when you leave the menu
3 different fonts and Different sizes
OSD WHITE
OSD BLACK
You can change the white and black levels
INVERT
Invert colors
OSD SYNC THRESHOLD
Adjust if your OSD flickers
Default is 30
The best procedure for determining the correct threshold is as follows: Hold your camera towards a bright lamp and cover / uncover it with your finger while lowering the vale. Once the OSD goes away/starts flickering, write down the value. Then do the same but increase the value until the OSD goes away or starts flickering. Then set the value halfway between the minimum and maximum value and save it. So e.g. minimum: 15 maximum: 25 threshold to use: (15 + 25) / 2 = 20.
OSD X OFFSET
Shift the OSD left/right
OSD X SCALE
Scale it
3D mode
Shows OSD twice for 3D mode
Side by side 3d goggles
3D Right SHIFT
To shift the right eye
HD CAMERA FRAME
Gab707 suggested this feature. It is a white box or corners in your display where you can change the size and position to mimic what your GoPro captures. You can change the frame until you match what the gopro sees. This helps you get better footage!
MODE

Full
Corners

WIDTH
HEIGHT
HORIZONTAL OFFSET
VERTICAL OFFSET
SPECTROGRAPH

The gyro SPECTROGRAPH is a cool feature that shows the frequency spectrum of your motor/gyro noise (x = frequency scale, y = amplitude). You can display it through your goggles in real time OR visualizes the data after your flight.
Enable the spectrograph by turning it on/off in this menu
Save/Reboot
To use the spectrograph, you have to use your sticks like getting into the BrainFPV OSD menu, except instead of YAW LEFT, it is YAW RIGHT
Use left stick to scroll through (roll pitch and yaw separately, or see them all together)
BrainFPV Team Pilot, NobodyFPV made this great tutorial on how to tune your quad with it:
---
Did this article answer your question?
Related Articles