THE BEST FLIGHT CONTROLLER
 
BRAINFPV RE1
---
Unlike any other flight controller, RE1's innovative design combines an OSD, a faster processor and the highest performance sensors all in one small package. Both Betaflight & dRonin are fully supported on RE1, allowing you to use your firmware of choice.
MSRP: $79 $55
SEE MORE. KNOW MORE. 
   GRAPHICAL OSD 
---
BrainFPV RE1 has an integrated full-graphic On-Screen Display (OSD). Having the OSD in the flight controller also saves you from the hassle of using a separate OSD, so you can keep your build clean and simple. Our OSD is fully configurable using the dRonin or Betaflight configuration software and also includes a menu to easily change settings in the field.
This is not your old character-based OSD, it has advanced features, such as 3D support when used with a 3D camera (e.g. NerdCam3D Mk.2). 
SUPERIOR QUALITY
ASSEMBLED IN USA 
---
We use only the highest quality components and a 6 layer circuit board for optimal signal integrity. RE1 is designed, assembled and tested using cutting-edge equipment by the best men and women in New England. *Lobster roll not included*
EFFICIENT AND POWERFUL
FASTER PROCESSOR
---
The latest and fastest STM32 F4 processor, running at 180MHz, enables RE1 to run advanced flight control code with ease.
FAST AND PRECISE
BETTER SENSORS
---
The latest accelerometers and gyroscopes from Bosch Sensortec running at 1.6kHz give RE1 unparalleled flight performance.
BUILT FOR RACERS
LAP TIMING
---
Participating in a race? We got you covered with RE1's integrated a multi-protocol (I-Lap, Trackmate) infrared (IR) transponder for lap timing. The transponder ID and protocol can quickly be changed in the field using the OSD menu. Race on!
BLING YOUR DRONE
MORE LIGHTS
---
We built dedicated hardware to control over 1000 programmable RGB LEDs. Crazy, we know. Use the OSD menu to easily change the LED color when racing.
SIMPLE AND CLEAN
STACKABLE DESIGN
---
RE1 stacks directly on top of the Mini Power Board (mPB) !!WITHOUT ANY WIRING!! to give you accurate current and voltage sensing as well as clean power for all your gear. Doesn't get much better. Or sexier.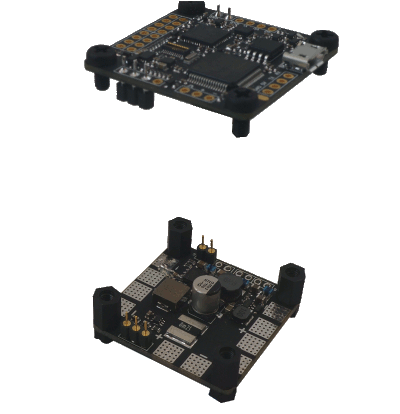 FUTURE PROOF
EXTENDABLE
---
Brilliantly designed with extendability in mind. Future accessory boards can be stacked on top of RE1, connecting to it using high speed interfaces without the fuss of wires. Yeah, we think ahead.
Available accessory boards:
EVERYTHING BUT THE KITCHEN SINK
MORE OPTIONS
---
Want to fly an octocopter? RE1 can control up to 8 motors. Want to attach accessories? Connect them using one of the two serial ports or the I2C port. Lost your drone? We added a dedicated buzzer port to help you find your drone when you crash (no worries, we've all been there). Sick of using external inverters for FrSky receivers and telemetry? No need for an external inverter here! RE1 has built-in inverters for both. Want more memory? We've included 128 Mbit of flash memory for settings and logging. What more could you want? A pony?
FREEDOM MATTERS
OPEN SOURCE
---
RE1 runs either the dRonin flight stack or our own fork of Betaflight. The firmware does everything, including rendering the OSD. You can use either firmware depending on your personal preference and you can always switch between the two. dRonin has an advanced autotune feature that allows you to easily tune your PID gains for super stable flight and other advanced features, like navigation capabilities. Of course, it is also well suited for racing. Betaflight on the other hand is designed solely for racing and performs very well for that purpose.
STREET CRED
What are the most influential DRONE REVIEWERS saying about BrainFPV RE1?
Processor: STM32F446RET6, Coretx-M4, 32bit, 180MHz, 128kB RAM, 512kB Flash.
IMU: Bosch Sensortec BMI160 running at 1.6kHz (dRonin) or 3.2kHz (Betaflight), connected using SPI.
OSD: Full-graphic, PAL/NTSC auto detect, adjustable black and white levels. 4 fully customizable pages (dRonin only) and a menu. Support for side-by-side 3D when used with a 3D FPV camera (e.g. NerdCam3D Mk.2).
Flash memory: 128Mbit (16MB) high-speed SPI flash memory with up to 0.5MB/s write/erase speeds.
PWM Outputs: 4 to 8 (8 if 2 serial ports are configured as PWM outputs) with normal PWM and OneShot (OneShot125, OneShot42, MultiShot) support.
Receiver Support: PPM, S.Bus (inverter built-in), DSM, HoTT. Selectable 5V or 3.3V supply for receiver. Receiver is powered from USB for easy and safe setup. 
Telemetry Support: FrSKY Smart Port, FrSKY Sensor Hub, HoTT Telemetry, UAV Talk, Light Telemetry. Built-in inverter for FrSKY telemetry.
Serial Ports: Up to 4 serial ports (including receiver input) when 4 PWM outputs are used (3 ports with 6 outputs, 2 ports with 8 outputs). Note: Betaflight only supports the 3 serial port / 6 PWM output option.  
RGB LEDs: Dedicated hardware to control up to 1024 WS2812B RGB LEDs via SPI (up to 32 LEDs in Betaflight). The LED port uses 5V logic for direct compatibility with WS2812B LEDs.
IR Emitter: Dedicated hardware for infrared based lap timing with multi-protocol support (I-Lap, Trackmate).
Buzzer Port: Dedicated port for 5V (100mA max) buzzers (DC and 4kHz buzzers supported).
Analog Inputs: 3 analog inputs (3.3V max.) for voltage, current, rssi sensing.
Extension Port: Hirose DF40 connector with SPI, I2C, serial interfaces, power and GPIO signals.
Power: 4.5V to 5.5V, 150mA.
Dimensions: 36mm x 36mm, 30.5mm hole spacing.
Weight: 8 grams.