hello
    hello graphics
On top of the normal Betaflight OSD, radix on-screen-display gives you extra features you can't get anywhere else. Proudly show off your pilot and team logo using our logo customizer with just a click of a button. Extra features also include a graphical barometer scale, artificial horizon, gyro spectograph, RC stick display, 3D OSD support and more! 
    hello flexibility
radix is engineered to perfection with a visually stunning form factor and plug-and-play stacking. The radix flight controller stacks seamlessly on the radix power board or Hobbywing 4-in-1 ESC using soft cables for vibration isolation. Its simple, sophisticated design facilitates a faster build time and minimizes human error.
    hello features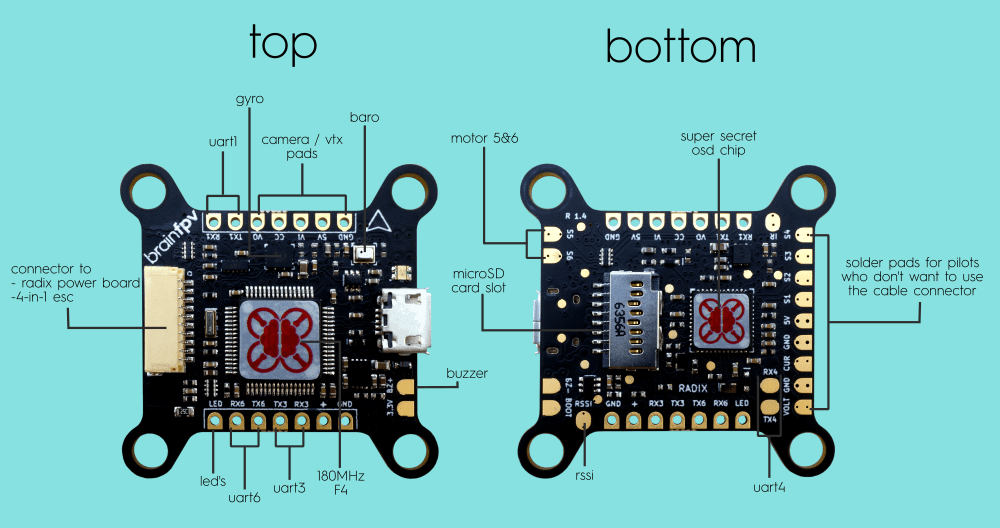 hello performance
Supporting up to 8S and 160A, the radix pb (power board) can handle serious power. The integrated LC filter and 5V (2A) regulator provide noise reduction and clean power to the radix fc and other peripherals. Get the cleanest sexiest build by soldering the motor and ESC telemetry signals directly to the radix pb, and connecting it to the radix fc using the included cable. Oh yeah, did we mention there are four integrated programmable LED's?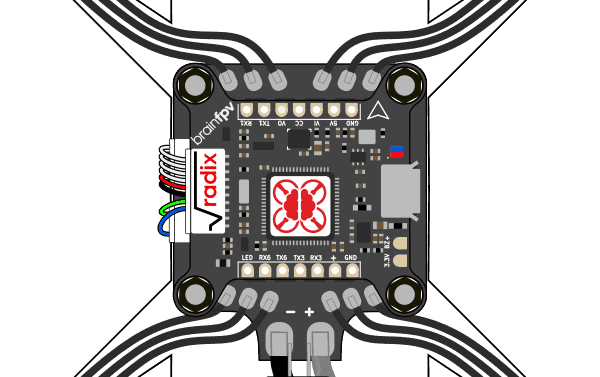 hello documentation
Have you ever seen anything so beautiful in your life? We outdid ourselves and won the award for BEST FPV MANUAL 2018.
Head over to the documentation to check it out!
hello support
didn't find the help you were looking for from our manual or our user group? no worries! just click on the 'help' button on the bottom left side of this page or email us at support@brainfpv.com to get first class customer service.
| Flight Controller | BrainFPV RADIX | BrainFPV RE1 | Betaflight F4 | Flyduino KISS FCv2 |
| --- | --- | --- | --- | --- |
| Processor | STM32 F4, 180MHz | STM32 F4, 180MHz | STM32 F4, 168MHz | STM32 F7, 216MHz |
| OSD | Full-graphic | Full-graphic | Character based | None (external) |
| Gyro | BMI160 | BMI160 | MPU6000 | MPU6000 |
| Baro | BMP280 | BMP280 (optional add-on) | None | None |
| Logging Memory | MicroSD card slot | 16MB built-in | 16MB built-in | None (external) |
| Motor Outputs | 6 with DSHOT | 6 with DSHOT | 4 with DSHOT | 6 with DSHOT |
| Serial Ports | 4 | 2.5 (UART3 is RX only) | 4 (limitations due to fixed inverters) | 5 |
| BEC | 5V, 2A with RADIX PB | 5V, 1A / 10V, 1A with mPB V2 | 5V, 1.5A | 5V, 500mA |
| Max Voltage | 35V (8S) with RADIX PB | 26V (6S) with mPB V2 | ? | 6S (25.2V) |
| Max Current | 100A (160A burst) with RADIX PB | 80A (130A burst) with mPB V2 | ? 145A burst | - no PDB |
| Soft-mounting | Integrated grommets | None | None | None |
| Stacks on 4-in-1 ESC | Yes, plug-and-play | No | No | No |
| Firmware | Betaflight | Betaflight & dRonin | Betaflight | KISS |
| Price at Launch | $49.99 FC / $19.99 PB | $79 FC / $25 PB | $44.95 | $66 (55.38 €) |
Technical Specifications RADIX FC
Processor: STM32F446RET6, Coretx-M4, 32bit, 180MHz, 128kB RAM, 512kB Flash.
IMU: Bosch Sensortec BMI160 running at 3.2kHz, connected using SPI.
Baro: Bosch Sensortec BMP280 connected using SPI.
OSD: Full-graphic, PAL/NTSC auto detect, adjustable black and white levels. Full Betaflight OSD support with extra graphical features. Support for side-by-side 3D when used with a 3D FPV camera.
Memory: MicroSD card slot for logging.
Motor Outputs: 6 outputs with full DSHOT (150/300/600/1200) and OneShot support.
Receiver Support: PPM, S.Bus (inverter built-in), DSM, HoTT,  SRXL, CSRF, FPort ready. 5V or 3.3V supply for receiver. Receiver is powered from USB for easy and safe setup. 
Telemetry Support: FrSKY Smart Port, FrSKY Sensor Hub, HoTT Telemetry, SRXL, CSRF, FPort ready. Built-in inverter for FrSKY telemetry.
Serial Ports: 4 full serial ports (UARTs). UART3 and UART6 have inverters for S.Bus and SmartPort telemetry. Inverters are automatically enabled/disabled for maximum flexibility. 
RGB LEDs: Dedicated RGB LED output.
Camera Control: Dedicated output for accessing the camera menu to change camera settings.
IR Emitter: Dedicated output for infrared based lap timing with multi-protocol support (I-Lap, Trackmate). Needs external IR LED and driver.
Buzzer Port: Dedicated port for 5V (100mA max) buzzers.
Analog Inputs: Voltage sensing up to 35V, current and RSSI inputs (3.3V max).
Power: 4.5V to 5.5V, 120mA.
Dimensions: 37mm x 37mm, 30.5mm hole spacing. 4.1mm holes for anti-vibration grommets.
Weight: 6g
Technical Specifications RADIX PB
Battery Voltage: 3S to 8S (9V to 35V)
Maximum Current: 100A constant, 160A burst.
Voltage Regulator: Integrated 5V, 2A.
Noise Filter: Integrated LC filter for clean video.
Current Measurement: Up to 160A (20mV/A).
Motor Outputs: Solder pads for motor signals (DSHOT) for clean and simple wiring.
ESC Telemetry: Solder pads for ESC telemetry signals.
LEDs: Four integrated programmable RGB LEDs. Output for additional LEDs.
Stacking height: 5.5mm (space between RADIX FC and RADIX PB).
PCB: 4 layer, 4oz (170um) copper per layer. HASL plating (lead-free). 
Dimensions: 36mm x 38.5mm.
Weight: 8g